Rodrigo Wounded in Nepal/ Fantasy Baseball Starting This Week
Hello everyone. There hasn't been much going on these past few days so some of my remaining operatives got bored. Rodrigo Boca (Juan's son) and DooHan decided to lead an ill-fated demolition mission into Nepal. They were intercepted by some of the royal family's security personnel, and a viscious gun battle ensued in the streets around the palace. Rodrigo suffered several gunshot injuries and was medivacced to Malaysia where he is in critical condition. Please keep him in your thoughts and prayers.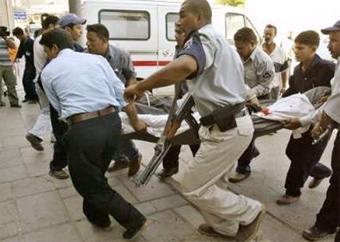 In other news, fantasy baseball is finally up on Yahoo! Their free site provides for a excellent basic league with plenty of options to follow American baseball. For live score-keeping, owners may choose to pay for Stat-tracker to give them the full play-by-play. I am not sure how many leagues I will be in this year, but I cannot wait for spring training.